Woodland Hills Copy Print Shop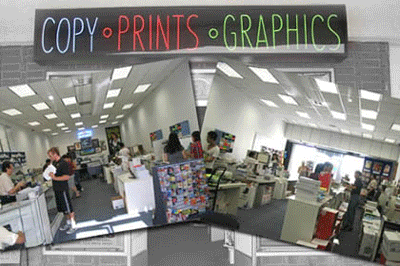 The demand for high-resolution copies and prints is satisfied with the latest commercial printing equipment. These devices can produce more accurate colors and sharp text faster and easier compared with units from only five years ago. Our Woodland Hills copy shop understands new technology and uses updated machinery to produce high-resolution prints and copies. Not every copy shop has the education or experience required for high-resolution printing to meet individual or business requirements.

The competition in the printing industry is fierce. Customers demand products in faster time periods and want access to the materials and documents that are used by large corporations for advertising. Our Woodland Hills copy shop constantly evolves with technology and offers the latest enhancements in the printing industry to our customers. Our knowledgeable and helpful staff of industry professionals works hard to provide the services and materials that our customers require.
Business owners require a variety of printed products to use for daily business operations and to include with marketing campaigns and announcements. Individuals often require banners, signs or other products for birthday parties, anniversaries or weddings. Our copy shop Woodland Hills center helps our customers decide what products to choose and provides excellent customer service before and after a copy or print job is completed. Complete customer satisfaction takes experience and dedication to excellence.

Customers can take advantage of multiple services from our copy shop in Woodland Hills. These services are full color printing, graphic design, black and white printing, brochures, postcards, flyers, envelopes and letterheads, book binding and copying, large copies, business cards, photos into posters, rubber stamps, mousepads, office supplies and legal forms, passport size photos, mounting and laminating, full color signs, custom t-shirts, presentation folders, promotional items, business cards, magnetic calendars, calendars, roll-up banners and custom banners for public and private use.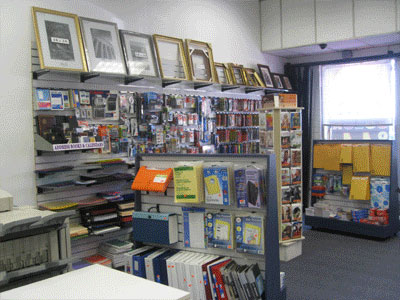 Most people are familiar with the use and quality of home and office printers, but few people have experienced professional quality printing. The documents and reproductions that can be printed using these consumer devices may look fine to the average person, but not to a printing professional. Our Woodland Hills printing shop invests in industry standard printing technologies to provide the highest quality of prints and reproductions to our customers for a variety of personal or business uses.

Professional printing requires strict requirements for positioning and graphics before a printing job can be completed. These rules are used to ensure that every print is professional and quality is never compromised. Our Woodland Hills printing shop has the capacity to print any small or large job easily. Our printing experts take control of the entire printing job and deliver printing results that meet or exceed the standards that our customers expect in a modern printing company.
Creating graphics for home use and creating graphics for professional printing are very different. The design specifications must adhere to specific image resolutions, bleed lines, crop marks and embedded fonts. The graphic design team at our printing shop in Woodland Hills provides design services for any customer that is incapable of completing the design. All submitted designs and files are checked for accuracy before final approval is made to complete the printing request.

Modern customers expect an easy ordering process when prints and printed materials are needed. Our ordering process provides several ways to complete printing orders. Our customers can order online, by telephone or by visiting our printing shop Woodland Hills center. Completed orders will be shipped to a customer designated location or can be picked up in person for local customers. Our excellent customer service helps streamline the completion process to meet important customer deadlines.
If you live in Woodland Hills, CA zip codes 91302, 91303, 91304, 91365, 91365, 91367, 91371 and 91372 call us at (818) 775-0255 for any services you need.
You can make your order in person at our office, online or by phone, and we will ship the completed order to you. We provide shipping for the following cities:
9130 B. Reseda Blvd., Northridge, CA 91324
On Orders Over $250 Los Angeles County Only