your one-stop
copy & print shop!
Our Los Angeles printing company is your one-stop copy, graphics, and print shop! Whether you just need a black and white copy or you need blueprints, we provide the quality services you need and at an affordable price. With over 18 years of experience, a professional staff and the latest technology and software, we are here to help you with all your needs.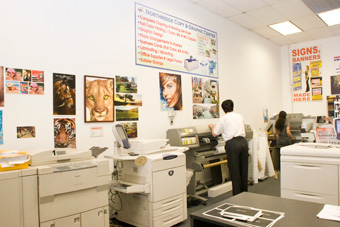 Los Angeles Printing Services
Our professional and experienced staff can help you with all printing services in Los Angeles. We can even help you with graphic design projects and make sure your business cards, flyer, postcards, signs, banners, letterheads and all other office supplies have the professional look you need for the success of your business. 

For your convenience, we provide online services as well. You can order your project online, by phone and in person and we can even mail you the final results with trusted carriers. Call us at (800) 554-2202 to make an order or for any questions you have. We are here to help and make sure you have all you need to succeed.
We provide the following services for printing in Los Angeles:
•    Complete Copying and Binding Services
•    Full Color Printing
•    Color Printing
•    Black and White Printing
•    Graphic Design Services
•    Signs and Full Color Custom Banners
•    Photo Enlargements to Posters
•    Business Cards (Full Color, Black and White)
•    Laminating / Mounting
•    Office Supplies and Legal Forms
•    Rubber Stamps
•    Personalized T-Shirts
•    Mousepads and Promotional Items
•    Calendars
•    Brochures and Flyers
•    Posters
•    Postcards
•    Passport Photos (while you wait)
•    Letterheads and Envelopes
•    Presentation Folders
•    Oversize Copy (Blue Print)
•    Magnetic Signs
•    Roll-up Banners
•    Magnetic Calendars 
•    Blueprints
•    Engineering Copier
•    Invitations
•    Labels and Stickers
•    8-180 Booklets
•    Course Reader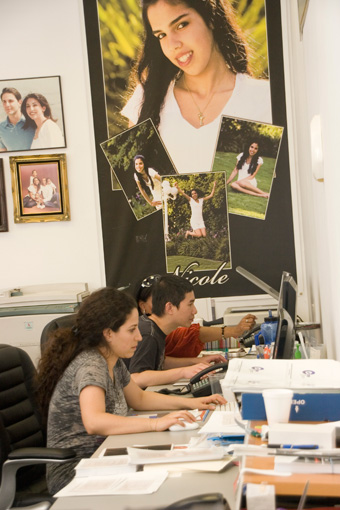 You can make your order in person at our office, online or by phone, and we will ship the completed order to you. We provide shipping for the following cities:
9130 B. Reseda Blvd., Northridge, CA 91324
On Orders Over $250 Los Angeles County Only