Magnets, Signs and Banners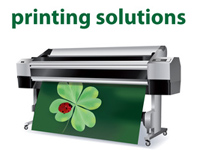 In an age of electronic advertisements and commercials, many companies overlook the highly-effective and affordable nature of custom signs and banners. Our printing company in Los Angeles will work closely beside you to develop pertinent and eye-catching banners and signs starting with the graphical design and ending with a delivery at your place of business.

The key to advertising is to reach the targeted audience with an effective message. There is nearly no better way to do this than with a well-developed banner. For a single cost, banners will draw countless local customers to your business. Banners are also one of the most cost-effective platforms to notify customers and potential customers of changes to prices, sales, and even a relocation of the business.

Alternative forms of banner advertisements have become extremely popular in recent years as well. Our printing services in Los Angeles offers magnetic, vinyl, indoor, outdoor banners of all shapes and sizes. With the oversaturation of advertisements within Los Angeles, developing a unique and localized strategy for banner advertisements may mean the difference between a successful business venture and a money sink.

Traditional signs are an important component of the storefront for any type business. Whether they are there to display the specials on the menu or are informing your customers of all of your services, they can turn a bland business into a welcoming environment. Custom sign printing in Los Angeles will have a dramatic effect on sales and revenue.

Whether you are looking to promote your next fundraiser, adopt a new marketing strategy for your business, or finally create that funny sign for a family or friend, our copy center will have you covered from start to finish. For your convenience, place your order by phone, online, or in person and we will deliver to your home or place of business directly as we are proud to serve all of Los Angeles. Our experienced staff can also aid you with color copies, magnets, folders, letterheads, envelopes, graphic design, business cards, passport photos, and much more.
You can make your order in person at our office, online or by phone, and we will ship the completed order to you. We provide shipping for the following cities:
9130 B. Reseda Blvd., Northridge, CA 91324
On Orders Over $250 Los Angeles County Only