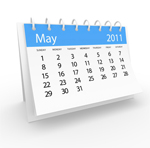 Every ancient and modern civilization in the world has used calendars to keep track of the passing of days. This trend has become a part of daily life in modern culture and the need to know the current and future dates in each month of the year creates calendar printingopportunities. Our printing shop in Los Angeles creates both black and white and full color calendars that are in use around the world by businesses and average people.

Business owners are most commonly associated with ordering calendar printing services. Any business can be promoted every day of the year for 12 months for an affordable price. This type of advertising has been used in business for decades. A custom printed calendarcan include graphics, special slogans or promotional messages on each page to advertise new products or services and tie them into the changing seasons. These effective marketing tools help to increase company profits without creating expensive marketing campaigns that may not produce immediate results.

The average consumer uses calendars to plan for special occasions and appointments. A great way to give anniversary gifts, retirement gifts, graduation gifts or entrance to college gifts is to provide a customized calendar. The high-resolution printing that is now available makes it simple to take old photos and incorporate them into decorative calendars. Each calendar page can be a remembrance of the days of the past or the future events that will create new memories. Digital printing makes it easy to receive individual or multiple quantities of calendars.

Our copy shop in Los Angeles uses professional printing equipment to produce printed calendars. We are a trusted source for posters, postcards, envelopes and letterheads, promotional items, presentation folders, rubber stamps, graphic design, flyers, photos for passports, laminating and mounting, legal forms, office supplies, black and white printing, roll up banners, full color printing, banners and signs, magnetic calendars, custom t-shirts, book binding and copying, posters and large posters. Any order can be placed from our website, phoned in or placed in person in our printing shop. Completed orders can be shipped to you or picked up in person when completed.
You can make your order in person at our office, online or by phone, and we will ship the completed order to you. We provide shipping for the following cities:
9130 B. Reseda Blvd., Northridge, CA 91324
On Orders Over $250 Los Angeles County Only