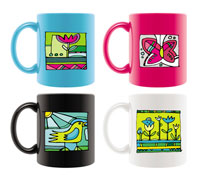 Mugs, useful for holding coffee, tea, and other hot drinks, can also be printed on a custom basis for promotion and other purposes. A combination of digital printing equipment and a knowledgeable design staff helps our Northridge print shop offer mugs that exceed the expectations of creative consumers, advertisers, and others. Below is a look at the mug options our clients enjoy and the ways they use their personalized mugs in business and elsewhere.
Gifts and Creative Outlets
Many consumers order personalized mugs for their own enjoyment or for use as gifts to friends, family, co-workers, and others. Almost any photo or piece of art can be reproduced onto mugs, letting consumers admire them each time they enjoy a hot drink. Special messages can be printed on mugs and given as gifts on birthdays and holidays, ensuring that the mug recipients will always remember the thoughtful message.
Commercial and Promotional Items
Logos, slogans, and contact information can be printed on mugs to be distributed for promotional purposes or simply sold. Artists and photographers, in particular, can benefit from personalized mugs bearing their work. A company can broaden its promotional portfolio with this product, which are small enough to be shipped to customers or brought along to trade shows, business meetings, and other events.
Mug Customization Options
The designs clients want to have printed on their personalized mugs can be brought to our shop or produced by our professional design staff. To perfect the design for the mug type, size, and color involved, our designers can make recommendations and adjustments before printing starts. Clients can have a single mug, or as many as hundreds printed from one or several mug designs in a larger run.
Our personalized mugs are unique vessels for hot drinks as well as stand-out promotional items. Made and printed for durability, our mugs will last long after they are produced, giving clients all the value they expect and more. Customers, partners, and gift recipients will appreciate the results long after they receive them. Clients can contact our print shop in Northridge to discuss our options for mug customization.
You can make your order in person at our office, online or by phone, and we will ship the completed order to you. We provide shipping for the following cities:
9130 B. Reseda Blvd., Northridge, CA 91324
On Orders Over $250 Los Angeles County Only