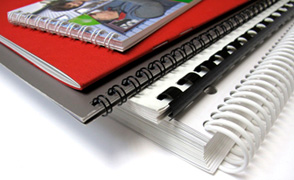 When you need a large document printed, you have many options for binding. Popular options include heavy-duty staples, tape binding, comb binding, saddle stitching, and spiral binding. However, the highest quality and most professional option available is considered to be perfect binding. LA Copy and Print Center offers perfect binding for all of your document needs, from course readers to lengthy business reports and self-published books.


Perfect binding is a binding option that involves bundling pages with a strong adhesive, providing a smooth, durable edge. The pages are glued to a spine. When the adhesive dries, the pages are securely glued to this spine and are unlikely to become detached or can be easily torn. A paper or cloth cover is then attached to the spine, providing a professional finish and allowing the title, author, and other information to be printed onto the spine for easy display.


Do not settle for inferior binding services. LA Copy and Print Center offers high quality perfect binding that will last for years without drying out or becoming loose. In addition, we provide state of the art, high quality printing for the cover and interior pages that will display your information in sharp, easy to read print with professional-looking graphics and images. Choose from black and white printing or full color printing in a variety of paper types and finishes.


LA Copy and Print Center strives to be your first choice in printing services for all of your business and personal needs. In addition to book and document binding, we also offer a number of other customized printing services as well as professional graphic design services.


LA Copy and Print Center is open six days per week for long hours to allow us to complete rush deliveries when customers are on tight schedules. Free delivery is available within Los Angeles County for orders over $250.
You can make your order in person at our office, online or by phone, and we will ship the completed order to you. We provide shipping for the following cities:
9130 B. Reseda Blvd., Northridge, CA 91324
On Orders Over $250 Los Angeles County Only