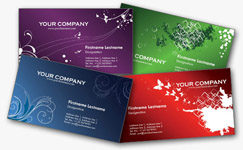 Businesses have relied on the power of business cards to promote and educate consumers about products and services since the industrial revolution. Technological creations like smart phones and mobile devices are great for researching information and keeping in touch. These devices may be popular, but are still no match for the time-tested business card. Our Los Angeles printing shop relies on the latest digital printing technology to produce attractive business cards that will get attention for your business, products or services.

The digital printer revolutionized digital printing. The ability to print full color photos that rival 35mm print quality is now possible using digital printing technology. Intricate and attractive designs can be put onto the front and back of a business card to display a message, coupon or detailed map to your business or office location. Doctors, dentists and attorneys frequently rely on this method for scheduling appointments. This technology was not available a decade ago.

Modern business cards are an extension of your products, services or company. Long gone are simplistic designs that include basic contact information. Receivers expect to see graphics and interesting imagery printed on a card. The various ways that business cards are used are not limited to promoting a business or service. Many authors, web marketers, musicians and entrepreneurs use business cards to create awareness and self-promote accomplishments and ideas. Our Los Angeles copy shop designs and creates business cards that are used around the world.

Our business cards are available to everyone in the Los Angeles area and we make it easy to place an order. Orders can be placed directly on our website, inside our printing shop or by telephone. In addition to business cards, our services include black and white printing, signs and banners, full color printing, mousepads, office supplies, graphic design, legal forms, postcards, passport photos, flyers, rubber stamps, custom t-shirts, large copies, banners and signs, mounting and laminating, posters, letterheads and envelopes, promotional items, magnetic calendars, presentation folders, calendars and roll up banners. Orders can be picked up in person when completed or shipped quickly to any home or business.
You can make your order in person at our office, online or by phone, and we will ship the completed order to you. We provide shipping for the following cities:
9130 B. Reseda Blvd., Northridge, CA 91324
On Orders Over $250 Los Angeles County Only