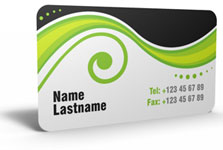 Business cards provide a way for companies to promote their products or services. These marketing resources have come in handy for decades. Company leaders can hand out their business cards when they meet a potential customer or attend work-related conventions. Retail stores, banks and other businesses can even use cards as a marketing tool by placing business cards on the counter for customers.

Thanks to new technology, working professionals can have same day business cards printed. Once the cards have been designed to perfection, they can be professionally printed on the same day. The latest digital technology makes same day business card printing possible. In fact, the digital printer revolution has altered the way business cards have been ordered. Now, printing companies can deliver business cards faster than ever before.

Besides ordering same day business cards, business owners can also use the new technology to create attractive and intricate designs. Having creative business cards can help companies stand out from the rest. Based on market research, consumers are more likely to be attracted to creative business cards in comparison to plain ones. Those who use color and graphics while advertising tend to have better results.

A new trend in the advertising world is to use both sides of the business card. Many companies are using the extra space to display a map, message, coupon or address; this is especially true for doctors, attorneys and dentists. Another fun idea is to place the company's business slogan on the card.

All those who wish to promote their services should consider same day business card printing. Artists, musicians, writers and entrepreneurs can use the cards to self-promote their services. They can hand out the cards anywhere they want; in fact, people can even use their business cards as a networking tool  while on vacation in another country.
You can make your order in person at our office, online or by phone, and we will ship the completed order to you. We provide shipping for the following cities:
9130 B. Reseda Blvd., Northridge, CA 91324
On Orders Over $250 Los Angeles County Only