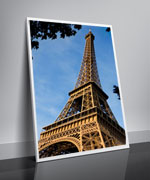 Window perf, properly known as perforated window film, is the ideal way to turn your car or business windows into advertising space. This film is attractive, effective, and inexpensive to produce when compared with many other forms of advertising.


Window film is transparent from the inside but opaque from the outside. This quality allows a driver to see outside their car window or for customers to see outside the windows at your establishment. However, other drivers or passersby can see your advertisement as a solid sticker, allowing your message to come through loud and clear.


Window perf is very durable. Window perf printing is designed to make the picture or advertisement resistant to UV rays. When used outside, it will stay vibrant and firmly affixed to the window for 2 to 3 years.


When you select window perf printing for advertising your business or organization, you may have many design options to choose from. Most copy centers allow you to bring in your own design or to enlist the services of the shop's graphic design services for help with creating an effective and attractive design.


In addition to design options, you may also be offered additional ink and finishing options. Perfs can be printed on a number of materials and with a variety of inks, including eco-friendly and fade-resistant inks. The most common finishing option is the standard spray lamination. Spray lamination creates a glossy finish and helps protect the film from fading and the weather. Another option is optically clear finishing. This finishing helps to protect the sticker and cover the small holes, preventing dirt from accumulating in the holes.


Call us to learn about your various options and to get pricing for your custom-designed perfs. Alternatively, stop in to discuss your design ideas with a professional graphic designer.
You can make your order in person at our office, online or by phone, and we will ship the completed order to you. We provide shipping for the following cities:
9130 B. Reseda Blvd., Northridge, CA 91324
On Orders Over $250 Los Angeles County Only