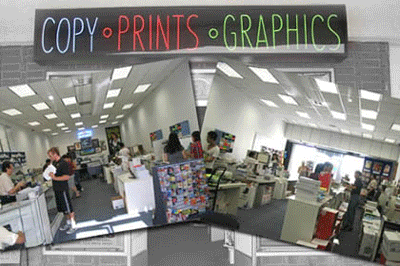 When you need oversized copies, such as large format copies of blueprints, enlargements of photos or artwork, rely on LA Copy and Print Center. We produce quality oversized copy in a variety of formats and for a variety of purposes.
Printing your own oversized copy is expensive and difficult to do well. In addition, you must upgrade, service, and maintain your own copy machines. The hassle and the lower quality results are simply not worth the convenience of having an in house large format printer. Instead of wrestling with your own printer, trust LA Copy and Print Center to create all of your oversized prints.
At LA Copy and Print Center, we know that price is important to you and that oversized printing at other companies can be expensive. We create high quality prints at a reasonable price, providing you with sharp, clear oversized copy for less than many of our competitors and for much less then producing your own copies and maintaining your own equipment.
LA Copy and Print Center is open six days per week and for long hours so we can get your oversized copy ready when you need it fast. Simply bring in your print-ready originals or your digital files and let one of our experienced representatives do the rest for you. We will have your prints ready within days, or in some cases, within hours.
In addition to large and oversized prints, LA Copy and Print Center provides many other high quality printing services that can benefit you and your company or organization. We print quality, full color signs and banners, business cards, posters and flyers, promotional materials, and much more.
Call or stop by to find out more about our oversized and large format printing services. Our skilled representatives will be glad to explain the process step by step as well as to show you options for the finished prints, including lamination and mounting.
You can make your order in person at our office, online or by phone, and we will ship the completed order to you. We provide shipping for the following cities:
9130 B. Reseda Blvd., Northridge, CA 91324
On Orders Over $250 Los Angeles County Only