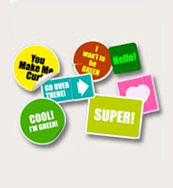 Magnet signs are the newest trend in advertising. These signs provide fast and easy advertising that attaches to vehicles for quick and inexpensive advertising that will not damage the car's paint. Simply place the magnet on the car door, truck tailgate, or even the hood of the car for fast advertising. LA Copy and Print Center offers fast, high quality magnet sign printing for customers.

Businesses rely on magnet signs to help them build brand identity. Customers trust companies that have recognizable signs and logos because they provide an instantly recognizable, polished brand image. When a repair person or other professional pulls up in their driveway, customers want to see a professional-looking vehicle, and magnet signs are an easy and inexpensive way to provide that polished look that customers prefer.

La Copy and Print Center offers fast magnet signs printing when your company needs it most. Bring in your design on a CD or even just sketch a design idea and let our professional graphic designers do the rest for you. Your company can have professional quality, full color magnet signs within days or even hours in many cases.

Trust LA Copy and Print Center for your entire magnet sign printing needs. We have the latest digital printing technologies to provide sharp prints that rival 35 mm quality. Display your company logo, contact information, graphics, and even maps on your magnet signs for easy and convenient advertising that is sure to capture the customer's attention.

In addition to magnet signs printing, LA Copy and Print Center offers a wide variety of other customized printing services, from personalized printing services to full color copies. Same day services are available for many products, and the Center is open six days a week for long hours to help meet customer deadlines. LA Copy and Print Center offers free delivery for orders over $250 within Los Angeles County.
You can make your order in person at our office, online or by phone, and we will ship the completed order to you. We provide shipping for the following cities:
9130 B. Reseda Blvd., Northridge, CA 91324
On Orders Over $250 Los Angeles County Only