Graphic and Print Northridge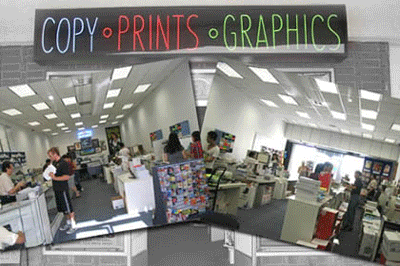 Our Northridge graphic and print services handle the design and printing of visual media projects for area residents. By visiting a single location for all steps of the graphic production process, business owners and consumers can save time and simplify their schedule. Companies can employ our graphic and print services for building effective promotions targeting employees, partners and customers. For special occasions, consumers can hire us to design and print banners, greeting cards and other unique items.
Good graphic design depends on having the right experience and equipment, and we offer both. Our graphic design professionals can develop designs from scratch or work from ideas or drawings brought to them by clients. To ensure that clients are satisfied, our expert in graphic and print in Northridge offers multiple revisions on designs. Logos, layouts and product packaging can all be designed on site and printed or used in digital media.
Our Northridge graphic and print services can print graphics that clients bring to us or have designed on site. A huge range of items can be printed, including t-shirts, posters, brochures and books. As a result, clients enjoy a high level of flexibility in crafting ad campaigns, party decoration motifs and other calls for high-quality printed graphics. This means that clients never have to make compromises when they want to employ designs as effectively as possible.
With services provided by our expert in graphic and print in Northridge, clients can have convenient, high-quality graphic design and printing for commercial or other use. Design elements are incorporated for maximum creative impact, ensuring that clients can have confidence in their promotional materials. Of course, the ability to print graphics on countless items further enhances options for our clients. To learn more about our graphic and print services, consumers can contact our specialists.
You can make your order in person at our office, online or by phone, and we will ship the completed order to you. We provide shipping for the following cities:
9130 B. Reseda Blvd., Northridge, CA 91324
On Orders Over $250 Los Angeles County Only