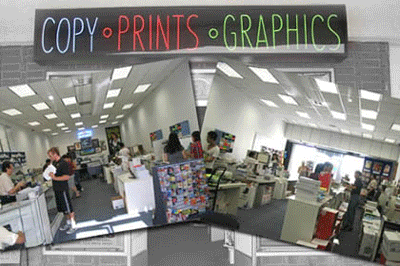 The average home printers are used for sharing simple printed documents, printing coupons, and printing an occasional photo on specialty paper. These printers serve a simple purpose, but they do not produce professional results. The quality of prints and copies that are produced when using a professional facility outweigh the most expensive home printers. Our Encino copy shop produces exceptional printing and copy results using our professional printers. This ensures that all of our print jobs are accurate and get attention.
We use premium quality paper and high-resolution printing to produce quality color, black and white documents and materials. Selecting the right paper is important to produce the right results for the right products. Glossy paper, matte paper, and card stock are often used to compliment the style of printing that you need. Our Encino copy shop supplies the very best materials to help your printed products look great.
Print and Copy Services

• Graphic Design
• Full Color Printing and Black & White Printing
• Office Supplies & Legal Forms
• Business Cards
• Brochures | Flyers | Posters
• Postcards
• Letterheads & Envelopes
• Rubber Stamps
• Copying & Book Binding
• Oversize Copies
• Passport Photos
• Mousepads | Mugs | Promotional Items
• Full Color Signs & Custom Banners
• Magnetic Signs
• Roll-up Banners
• Photo to Poster Enlargements
• Laminating & Mounting
• Calendars & Magnetic Calendars
• Presentation Folders
• Custom T-Shirts
Businesses need more than business cards to help create an effective marketing or promotional campaign. We can help your business produce attractive letterheads and envelopes to give your business a professional look. Creating postcard mailing and response campaigns are easy using full color postcards and additional marketing materials. Our copy shop in Encino helps your business to succeed.
We ship your completed printed materials directly to your door after production is complete. Our copy shop Encinocenter is your trusted printing partner. Call (818) 775-0255 to talk to one of our staff members about your project.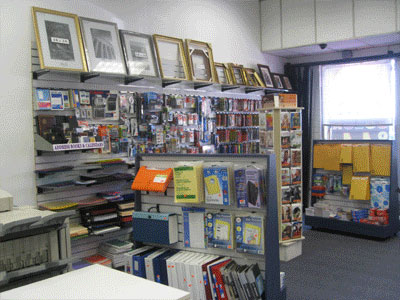 The printing industry is made up of many professionals with years of experience and new companies that are inexperienced. Selecting a printing partner for your printing needs is an important decision. There are some companies that offer simple reproductions with no assistance or support. Our Encino printing shop keeps your business needs in mind and controls your printing job.

Our reputation was earned with high quality prints and reproductions that have been used around the world. Our customer service commitment is to produce high-resolution prints on quality papers and products to meet your important deadlines. The staff at our Encino printing shop has the experience and education to produce exceptional industry standard printing specifications to keep every print job looking professional.
The quality of your submitted files and graphics is important when completing any printing job. Our graphic design team knows how to use industry software correctly to help create and repair submitted designs for print and copy work. Our printing shop in Encino thoroughly examines submitted files and documents and checks them to make sure that they meet our high standards of quality before printing will be started. This helps to ensure your complete satisfaction.

Our investments in the latest technologies have allowed us to streamline the ordering process. We make it effortless to order your printing jobs by visiting our printing shop Encino center. Your project will be finished accurately to your specifications. If you require shipping, your completed project will be sent to you safely by our trusted shipping partner. We offer our services to the residents of Encino, CA in zip codes 91316, 91416, 91426 and 91436 and surrounding cities.
You can make your order in person at our office, online or by phone, and we will ship the completed order to you. We provide shipping for the following cities:
9130 B. Reseda Blvd., Northridge, CA 91324
On Orders Over $250 Los Angeles County Only