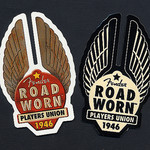 You have seen them on the backs of cars, on school lockers, on windows, and even on cash registers and refrigerators. Colorful stickers are the ideal marketing tool for your business or organization. A die cut sticker is durable, memorable, and inexpensive to produce.


Die cut stickers are designed on computers. They can take any shape and have any color, including multiple colors and transparent edges and backgrounds. Our graphic designers can assist you with creating a custom sticker that will be attractive and as well as effective.


Once the sticker has been designed, the process for die cut sticker printing can begin. Computers help state of the art cutting tools create precision-cut stickers that are correctly cut and printed each time. These stickers look and feel professional, and will stand up to weather and resist sun fading.


Your business or organization can use die cut sticker printing services to create custom stickers for a number of uses. Advertise your business by creating a sticker with your logo and contact information to place on company vehicles or even to give away to customers. Advertise your latest promotion or philanthropic event with a new sticker, or simply create a sense of belonging by passing out stickers that feature your company's motto or logo to members, customers, or employees.


A colorful die cut sticker is the ideal way to get the word out about your business or organization. Best of all, they are one of the fastest to produce and least expensive ways to advertise. We can create custom-designed stickers for your company or business in as little as a few days, or even on the same day in some instances. Call or visit your copy shop today to get started.
You can make your order in person at our office, online or by phone, and we will ship the completed order to you. We provide shipping for the following cities:
9130 B. Reseda Blvd., Northridge, CA 91324
On Orders Over $250 Los Angeles County Only