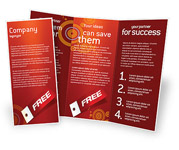 Printed brochures have been a part of marketing and advertising for decades. These small and attractive documents are used every day by individuals and business owners to make announcements or to advertise products or services. The average person is used to reading several brochures each day that arrive by mail or that are handed out by local businesses, non-profits, and universities. The public is aware of the quality of information that exists in brochures and these documents have become a standard promotional tool just like business cards.

Brochures can be printed in traditional black and white colors or full color graphics and text. The design is what attracts attention when a person sees these documents for the first time. After the initial attraction, the quality of the information provided in the brochures is designed to inform, educate and present information in an appealing way. Direct marketing campaigns, churches, corporations and retail stores all depend on the different ways that brochures are used to create attention for a product or cause. The effectiveness and inexpensive cost help to make brochures popular.

There are many types of folding that can be incorporated with brochures. Popular styles are bi-fold, tri-fold, and accordion folds. Printed information can be arranged in attractive styles to deliver important messages or product information in an appealing way. The quality of paper that is selected for printed brochures makes a difference to the reader. Various paper selections are available like matte paper, glossy paper and card stock to help produce attractive brochures. 

Our Los Angeles printing shop services are available to the residents of Los Angeles and all orders can be placed online, in person or by telephone. These services include full color and black and white printing, printing brochures, copying and binding, oversize copies, custom t-shirts, mugs, flyers, graphic design, signs and banners, business cards, laminating and mounting, legal forms and office supplies, photo to poster enlarging, posters, postcards, passport photos, calendars, envelopes and letterheads, magnetic signs, roll up banners, promotional items, mousepads, magnetic calendars and presentation folders. Completed orders can be picked up at our Los Angeles copy shop or shipped to any destination.
You can make your order in person at our office, online or by phone, and we will ship the completed order to you. We provide shipping for the following cities:
9130 B. Reseda Blvd., Northridge, CA 91324
On Orders Over $250 Los Angeles County Only